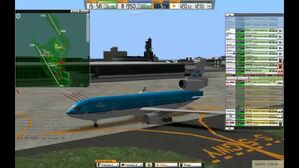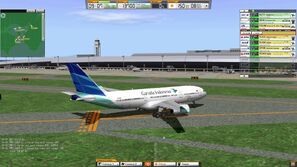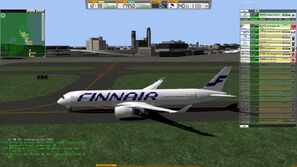 Air Traffic Controller (also called Air Traffic Chaos and Airport Hero: Chaos) is a series of simulation game and credited as the first game in the Airport Hero series
Game Information
Air Traffic Chaos is considered the predecessor to the AH series and is also credited as an AH game. It is actually a series of three games, released from 1998 to 2005. It was initially made for PC but eventually made its way to the PSP, GBA, and Nintendo DS.
The first few games were released by TechnoBrain. Sonic Powered eventually jumped in, and later took over to release Airport Hero Honolulu.
Unlike modern AH games, Airport Hero Chaos had multiple airports the player could control at, all in Japan, including Hiroshima, Naha, Osaka, and Tokyo-Narita. Additional add-on packs could be purchased to include New Chitose, Fukuoka, Kansai, Tokyo-Haneda, and Komatsu.
Despite having so many airports, AH Chaos did not have nearly as many airlines as the modern games. All Japan Airways and Japan Lines (with the code JNL) both appeared, marking this the first game for APA to appear in. There was also a Concorde that appeared in an extra stage, and an SR-71 Blackbird aircraft appeared if certain conditions were met in the stage. Other notable appearances include Air Force One, Boeing 747LCF (large freighter), and an Airbus Beluga. The game also only had one control channel, but to ease congestion not as many flights would be at one time than in newer games.
Later, Sonic Powered assisted TechnoBrain in developing Airport Hero PSP. To some, this is considered the first Airport Hero game. This time, there was only one airport per game. Five games were made from 2006 to 2010.
In 2011, Sonic Powered, TechnoBrain, and Majesco Entertainment released Air Traffic Controller for the DS and the Wii. This game had five airports, all featured in the PC version, with the addition of Chubu Centrair Airport. The game's structure looked more like it does today. This was the last game made by TechnoBrain before Sonic took over. They re-released the DS version as Airport Hero Chaos and removed the Wii version in favor of Airport Hero Honolulu for Wii.
This game laid the foundation for many of the features we see today. Our editors and film crew have yet to play this game, so we will provide more info soon.
Community content is available under
CC-BY-SA
unless otherwise noted.